You've run the numbers, drafted your preliminary leasing plan, backed into an allowable construction cost from the pro forma (as well as acquisition cost, if applicable), and now it's time to test your assumptions on the repositioning investment with a thorough building assessment. The anchor tenant, whichever one you consider, will have the largest demands both facility-wise and lease-wise. So what you can provide to the anchor and the rest of the tenants at what costs will be paramount in your negotiations starting as early as the LOI stage.
Space size and geometry are typically limited by the existing building footprint and structural restrictions – so not much will change except for possibly combining adjacent existing spaces. But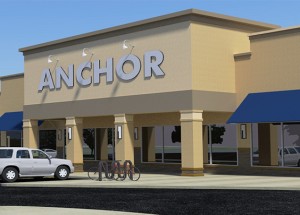 what about utilities? For example, major grocery chain stores use significant amounts of water (from an approximate 3,500 to 7,000 gallons per day). Does your existing water service have the capacity to satisfy this demand as well as for the other tenants'? Will a new fire sprinkler system(s) be required? If any of the existing spaces will be combined to one larger future space for the possible anchor tenant or others, this could trigger a code requirement for fire sprinklers that would not otherwise be required in the smaller spaces depending on use. How much additional water will be demanded by a new sprinkler system (the hydraulic demand)? For the rest of the center will a restaurant tenant or food service be part of future leasing? Hair salon? Can the incoming water service meet these future water consumption demands as well?
Electricity.
Does each space have its separate service drop metered directly by the local utility? Or is there one main service to the building? Will the local utility require conversion of multiple existing drops to a single "house-meter" with one main service to the building? This is becoming more commonplace among electric utilities because of initiatives to eliminate ongoing service requests to relocate or modify individual tenant drops when retail spaces are re-let. If a single incoming main will be required, what will be the total estimated future load at 100% occupancy? How much existing incoming service is now available? How much will the local utility charge for a "heavy-up" if a larger service size will be needed? Does the existing electrical service equipment (CT, switch gears, step-down transformers, etc.) have to be upgraded?
Parking.
With a change of use for any of the tenant spaces parking requirements may also change which could affect the overall parking for the shopping center. Check local code. A fitness club or gymnasium in a former grocery space may increase minimum parking per applicable code. Additionally, your prospective anchor may insist on a minimum number of parking spaces greater than the minimum code requirements. There are also sometimes lease remedies that Promaneer has reviewed for landlords which include built-in boilerplate language on the anchor tenant's lease form that penalize the landlord if any of their designated spaces are used by other patrons at the shopping center.
Roofing.
Despite having 5 or 6 years remaining on the roof membrane with warranty documentation to prove it, many anchor tenants demand a roof service life commensurate with the initial lease term. In other words, they won't sign until the roofing is to their satisfaction – roof replacement is not a surprising item the anchor will insert on the LOI. Is this Year-1 cost factored into your pro forma?
Landscaping and Trees.
Not usually high up on the list of considerations when estimating conceptual costs, many anchor retailers are intensely concerned with curb appeal and sight lines. Existing trees and greenery can be either a positive or negative to the extent they enhance or obscure storefront visibility and shopping center appearance in the eyes of the retailer (not the beholder). On a project that Promaneer managed the anchor tenant wanted all existing trees removed but the local design-review authority insisted on conservation and keeping the trees. Promaneer brokered an equitable compromise between the parties.
There are myriad considerations to factor into the investment analysis in addition to the preceding illustrations. Information is power. Equipped with the "right" information about a shopping center that you are considering for repositioning, you can directly influence your potential investment – or revise it according to what you learn from a thorough property assessment. Before agreeing to terms with an anchor tenant or even the property seller, hire the team of experts that will provide you with meaningful information and site analyses knowing how that data will be used in your investment analysis so that you can negotiate the best possible deal.